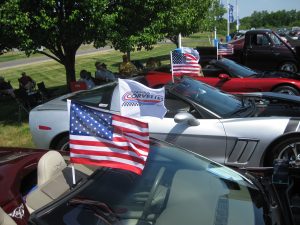 Founded In 2007, Calhoun County Corvettes is located in the Marshall/Battle Creek, Michigan-area. Our club members live in Calhoun County and neighboring counties.
Calhoun County Corvettes was formed to provide opportunities for its members to socialize and have more fun with their Corvette. And, "yes" we do have fun.
We are blessed to have members of varying ages (younger and older). The ages of our members' Corvettes also vary from 1962 to 2023.
Annually we try to plan a variety of club activities and make it easy for all members to participate whenever their schedules allow.  Members are encouraged to submit their ideas for club activities. As you will see, we have done a lot!!  And…..there is a lot more to come.
Open invitation:
You're invited to attend any of our activities or come to one of our club's  business meetings. We meet April, May, June, August, September, and November in Marshall. Just contact us and we will save a spot for you.
Other Club Affiliations:
Calhoun County Corvettes is a member of the National Council of Corvette Clubs or NCCC. We are in the Michigan Region NCCC chapter. Some members also belong to the National Corvette Museum and NCRS.