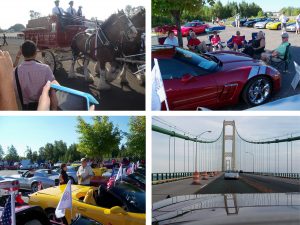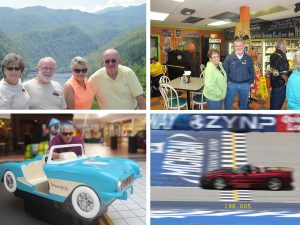 As a Corvette owner we want to offer you the opportunity to "Have more fun with your Corvette" and make new friends. You will find that Calhoun County Corvettes schedules a variety of activities throughout the year. We work hard at planning these social activities making sure our members have plenty of choices.
Ideas for activities are provided by the membership. Some of our recent activities enjoyed by club members (and guests) were:
Attended the North American Auto Show in Detroit.
"Left behind drive and dines" for those members spending the winter in Michigan.
Annual club Corvette dust off drive and dine.
Wine tasting and vinyard tours
Participated in the Marshall Memorial Day Parade.
Hosting the Corvette Low Speed Driving School. A low speed autocross training event.
Corvette shows locally and in Mackinaw City.
Numerous drive and dines to restaurants within a reasonable distance.
Club picnic.
Attended Bloomington Gold in Indianapolis.
Drive our Vettes on the tracks at Michigan International Speedway and the Indianapolis Speedway.
Overnight road trips to exciting locations like "Tail of the Dragon" or the National Corvette Museum and Motorsports Park.
Numerous "meet and eat" events scheduled on a weekday.
Participate in various other Corvette club activities such as rallies and car shows.
Participate in the NCCC Michigan Region Competition Events.
Club Christmas dinner.
From 9/2022 to 9/2023, we celebrate the 15th anniversary of Calhoun County Corvettes.  Join us and have a lot more fun with your Corvette!